CHARLOTTE, N.C. (May 27, 2017) – On the eve of the 58th running of the Coca-Cola 600 at Charlotte Motor Speedway, Circle K Speed Street presented by Coca-Cola came to a close as country music star Jake Owen serenaded thousands of guests.
The 23rd annual event entertained an estimated 250,000 guests over the course of the three-day festival in Uptown Charlotte. With 33 hours of programming ranging from live music to NASCAR driver appearances, Circle K Speed Street presented by Coca-Cola played host to all ages.
In addition, the event boasted approximately 50,000 square feet of sponsor activations featuring partners like Circle K, Coca-Cola, PNC, Morris Jenkins and dozens more.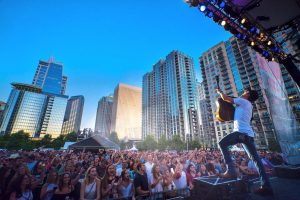 "It has been three great days of activities, music and appearances to help build excitement for the Coca-Cola 600," said Jacqueline Gafrarar, executive director of the 600 Festival Association. "We were fortunate to have perfect weather coupled with guests who thoroughly enjoyed the best of what Charlotte has to offer."
On the inaugural move to Romare Bearden Park, concert goers experienced national acts like DJ Jazzy Jeff, Billy Currington and tonight's headliner, Owen. Last night's opening act, Granger Smith tweeted, "Thank y'all for letting me do what I love. If you're reading this, I'm grateful for you."
Circle K Speed Street presented by Coca-Cola will return to Uptown Charlotte to celebrate its 24th year May 24-26, 2018.
Over the last month, the 600 Festival Association has produced four regional events in addition to Circle K Speed Street presented by Coca-Cola including Movies on the Campus, Haulers on Union Parade and Fan Fest presented by Freightliner, the Little 600 and PNC Speed Street 5K.
The 600 Festival Association is a nonprofit that has been commemorating the May races at Charlotte Motor Speedway with spectacular, family-oriented events for more than 30 years.
The event has been promoted and produced exclusively by CSM Production, formerly known as JHE, since 1996.
Media Contact
Crystal Emerick
(704) 361-5230
###